DMR is the next level !!
Having the possibility to go everwhere in the World it is really amazing.. and for who loves talk foreigner lanuages it is really really stimulating ! Echo link was of course already running, but DMR now if offering much much more, and lot of HAM are now making traffic in this new system !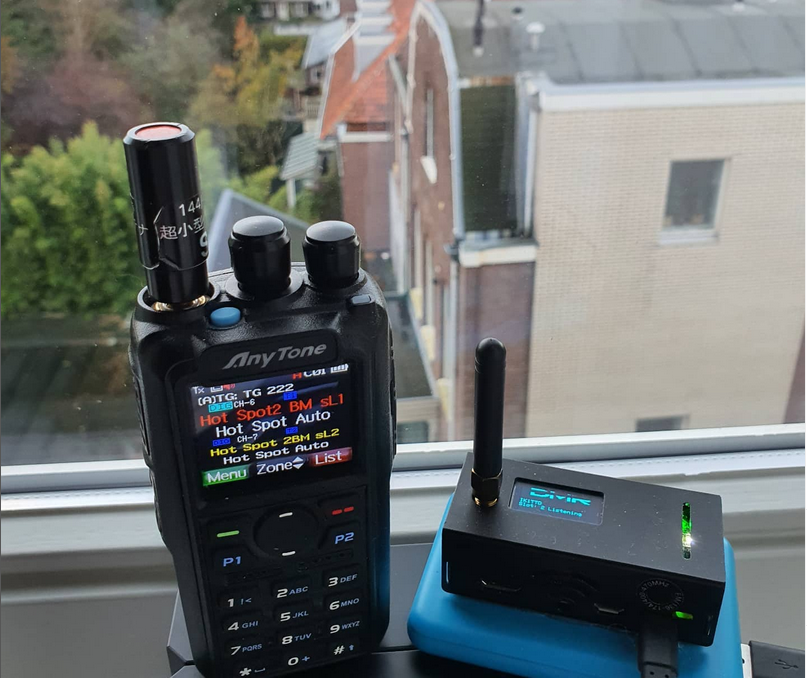 My DMR station actually is an handheld Anytone 878 and an Hot Spot Jumbospot made with a Raspberry P Zero. The P zero is hanged to a 5.000 mAmp powerbank, znd in this way I can have with me my DMR station always running.
Of course need to have a WIFI access … for this I use my cellphone in tethering if I am in an area not covered from wifi. Or, when I am in the car, I use the wifi taht my Audi generate.. in this case the connection it is much stable, and I almost never have interruptions !!! Work really brilliant !
The Anytone 878 offers also the bluetooth connection, and when you are in the car you connect him to your Bluetooth Hand free system… so you can listen your correspondent in the hifi car system; together with the handheld, beside the recharge base and the programming cable (necessary for enter the CODEPLUG), you also have a very smart PTT button with a small straps, to hang where you prefere.. and fit perfectly your gear…